How to secure your website by activating SSL encryption ?


To activate SSL encryption and be able to access your website using https:// instead of http:// without getting a warning message from your browser, you need a valid SSL certificate for each of your domains.
If your site is a personal site or a commercial showcase, you can easily obtain a free "Let's Encrypt" certificate and activate it on your hosting in a few minutes.


1) Configure your domain to use SSL encryption: 
1.1: Click on the "Domain Setup" menu under "Account Management" of your DirectAdmin interface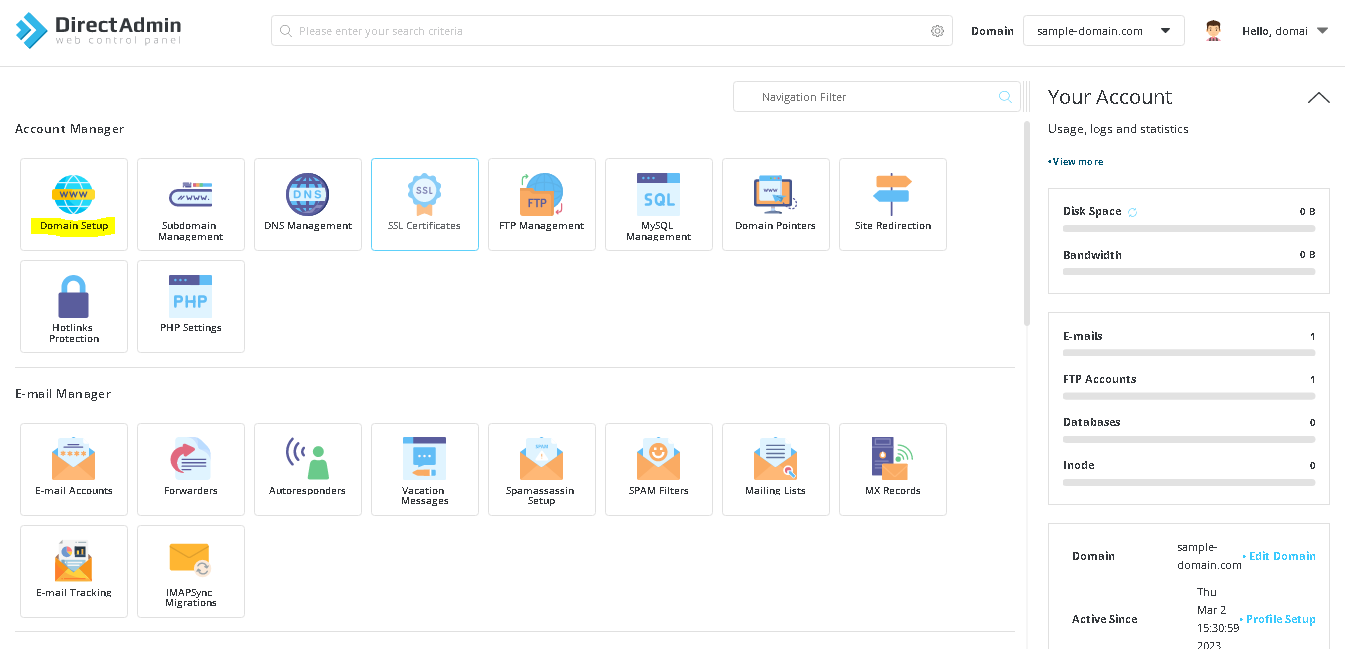 1.2: Select the domain for which you want to activate encryption




Here, we have seleted our demo domain sample-domain.com. So select the domain to configure it.

1.3: In the domain configuration:





Make sure the "Secure SSL" box is checked. If you want to load your domain in HTTPS only, then make sure the "Force SSL with HTTPS Redirect" box is checked. If you want to load the domain in both HTTP and HTTPS, then uncheck the box "Force SSL with HTTPS Redirect". Then click "Modify" to save the changes.


2) Configure a Let's Encrypt SSL certificate for your domain: 

2.1: From the main page of your DirectAdmin panel in the "Accounts Management" menu, click on "SSL Certificates"




2.2 : Select option "Obtain automatic certificate from ACME provider"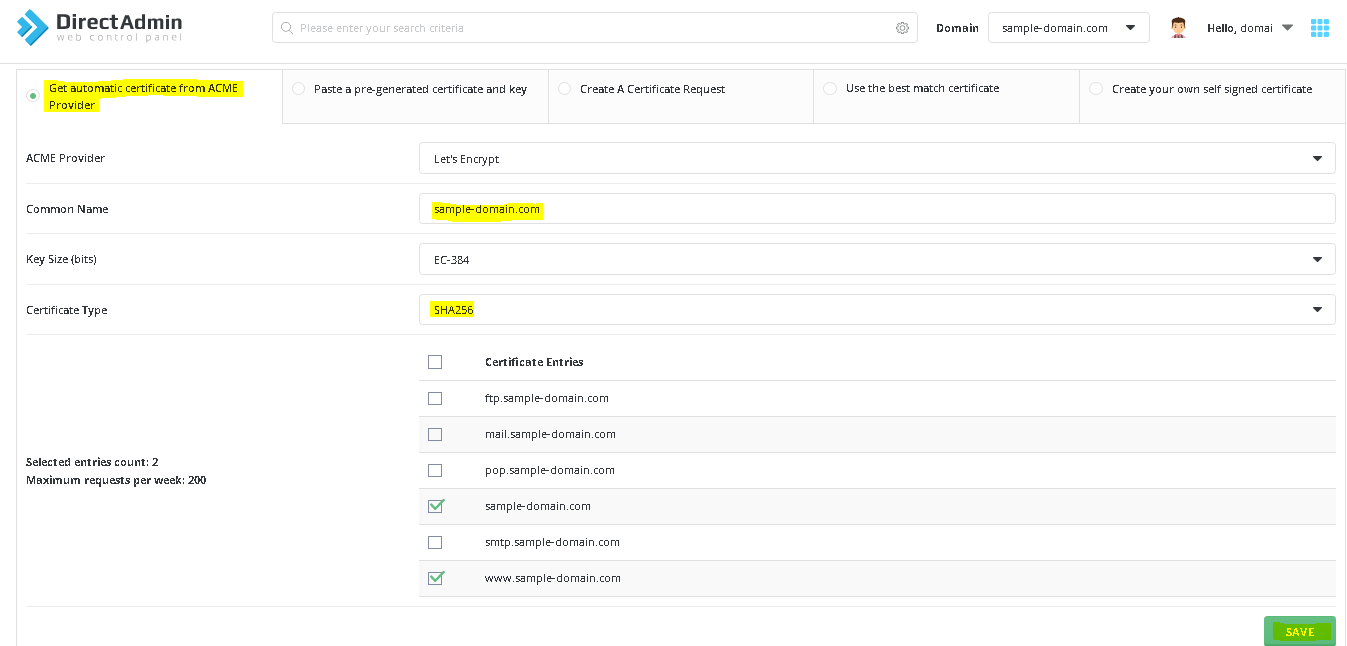 Here, add you domain name in section "Common name". Select "Type of Certificate" as "SHA256". Then select the domain and sub-domains which require SSL, and click "Save".

In the same page, if you want to load all the selected domain and sub-domain over HTTPS, click the option "Force SSL with HTTPS Redirect" and then click "Save"



Your site is now secure.


Is Let's Encrypt encryption suitable for my site ?

If your site is a personal site or a basic business storefront, the let's encrypt certificate will be fine.
If your site is an important commercial site or storefront, it is recommended to order a paid Domain Validation or Extended Validation type SSL certificate.
Paid certificates have the following advantages over the free certificate: 
- They are subscribed for a period of 1 to 2 years. Free certificates are issued for periods of 3 months, they must be renewed. The process is automated through your DirectAdmin interface but a problem in the renewal will generate an error/warning message for your visitors.
-We provide the paid certificates with a dedicated ipv4 address, which is better for SEO and protects you from possible blacklists of the server's common ip.
- Paid certificates have a better image with the public than free certificates.
Do not hesitate to contact our support if you wish to add a paid SSL certificate to your site, we take care of the entire installation and configuration process.